For a change of pace, how about some good garden tv? Meet two delightful ladies, Rosemary Boxer and Laura Thyme, who are brought together (you'll have to watch to find out exactly how they meet!) and begin a gardening business. Somehow, mystery and murder follow them amidst gorgeous English countryside.
Think Murder She Wrote with a setting all of us can appreciate and some witty English dialogue. What could be better? Some of you may be able find episodes on your local PBS channel. For the rest of us, we can watch them on dvds at our convenience. Three seasons are available for purchase or maybe rental at your local dvd rental outlet. You can always order them online like I did! (I first discovered this series last fall when one of the millions of catalogues that pour in at Christmas had a feature on it/them.)
My recommendation is that you start with the very first episode because you are going to love these gals. Plus, you won't want to miss any of the gardens they work in.
Rosemary & Thyme
has a website where you can (if you can get it open, sorry; I'm having trouble...hope it works for you) find out even more and even download some adorable wallpaper featuring the ladies.
I'm off to the garden, albeit an English one, while staying warm and cozy. Won't you join me?
Here's an image (not very good, I'm afraid) of Rosemary & Thyme wallpaper that I downloaded for the family room computer: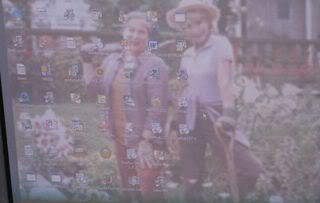 Aren't they adorable?