Poor, poor tea olive: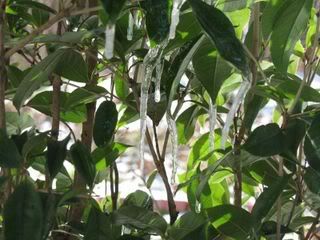 These photos were taken about 10 minutes ago (3:30 pm EST)...the tea olive not only has the misfortune to be here in cold Virginia but is sitting under the deck stairs: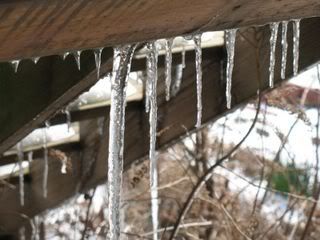 Tea olives, or osmanthus fragrans, are wonderfully fragrant as you might guess from their name. The one pictured above is one of three varieties that I have. This particular one is the least hardy and as Wikipedia says "The plant is semi- to moderately-hardy and will survive light frost but will not survive a prolonged or hard freeze." Guess what we're having...
Hmph. Well, I hope you all will cross your fingers with me. I'd hate to lose it. This is its third winter here, but this is a particularly cold one we're having. It is sited well, protected (except from ice, apparently) has a good mulch and is facing west. It will need all the good wishes it can get!